AXIS P5654-E P56 serie, Zipstream IP66 1MP 4-84.6mm gemotoriseerde lens IP PTZ camera, wit
Merken:
AXIS Communications
Artikelnr #:01758-001
Model #: 01758-001
Naam: AXIS P5654-E P56 Series, 1MP Zipstream IP PTZ Camera, 4-84.6mm Motorized Lens, IP66, White
Network camera - Helps achieve high-quality video results
CMOS sensor is cheaper as compare to CCD and consumes less power while producing better HD videos
Up to 1280 x 720 resolution for surveillance in real-time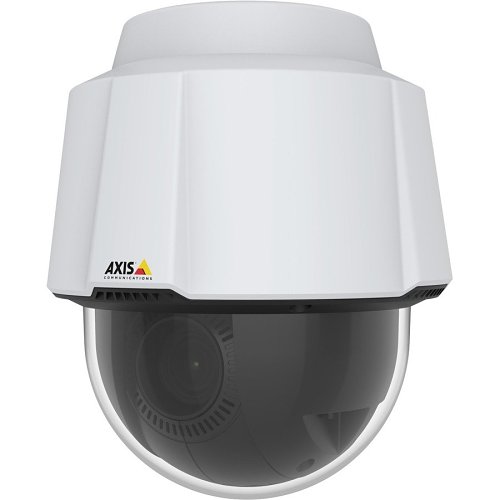 Productoverzicht
Algemeen Informatie
De AXIS P5654-E PTZ-netwerkcamera is een kosteneffectieve, hoogwaardige PTZ-camera met een brede dekking met 77 ° gezichtsveld. Het beschikt over Lightfinder 2.0 om beelden bij weinig licht vast te leggen met meer verzadigde kleuren en scherper beelden van bewegende objecten. En Forensic WDR voor helderheid, zelfs als er zowel donkere als lichte delen in de scène zijn. Elektronische beeldstabilisatie voor stabiele beelden en verbeterde beveiligingsfuncties inclusief signed firmware en secure boot. Met IP66-, NEMA 4X- en IK10-classificatie is het bestand tegen zowel zware weersomstandigheden als schokken. Bovendien krijg je uitgebreide mogelijkheden voor geavanceerde analyse.
Main Features
Outdoor PTZ 1MP, H.265
21x zoomlens 77.0° - 3.6°
Lichtgevoeligheid kleur 0.1lx mono 0.01lx
Lightfinder 2.0 en Forensic WDR
HDTV 720p met 21x optische zoom
Lightfinder 2.0 en Forensic WDR
Ondertekende firmware en veilig opstarten
Elektronische beeldstabilisatie
Zipstream met ondersteuning voor H.264 en H.265
Categorie : Producten, Video, IP Camera's, PTZ Camera's
Specificaties
Algemene Informatie
Productnaam
P5654-E PTZ Network Camera
Technical Information
Gezichtsveld
Horizontal field of view 77.0-3.6 ° Vertical field of view 43.1-2.0 °
Maximum Focal Length (mm)
Minimale brandpuntafstand
Technische Informatie
Videoformaten
H.264 (MPEG-4 Part 10/AVC), H.264B, H.264H, H.264M, H.265 (MPEG-H Part 2/HEVC), Motion JPEG, PAL, Smart H.265+, Zipstream
Belichting
Camera
Connectiviteitstechnologie
Display & Graphics
Energie
Interfaces/Poorten
Lens
Maximale brandpuntafstand
Netwerk & Communicatie
Omgeving
Maximale gebruikstemperatuur
Maximum Operating Temperature (°F)
Minimale gebruikstemperatuur
Minimum Operating Temperature (°F)
Opslag
Product Information
Productinformatie
Montage
Bracket Mount, Ingebouwde montage, Plafondmontage, Plafondsteun, Wandsteun
Projectielens
Minimum Focal Length (mm)
Storage
Uiterlijke kenmerken
Miscellaneous
Kenmerken
Built-in Card Reader, Cross Line Detection, Electronic Image Stabilization, HTTPS Encryption, Password Protection, PTZ, Sabotagealarm, SD Card Local Storage, Wachtwoordbescherming, White Balance
Overige