Bosch 5100I 12MP 1.26mm vaste lens, 360° IP panoramic dome camera, wit
Merken:
Bosch
Artikelnr #:NDS-5704-F360
Model #: F.01U.385.629
Naam: Bosch NDS-5704-F360 5100i FlexiDome Series 12MP Panoramic Camera, 1.26mm Fixed Lens
High Dynamic Range to see every detail in both bright and dark areas of the scene
Edge or client-side dewarping for easy integration and flexible viewing and recording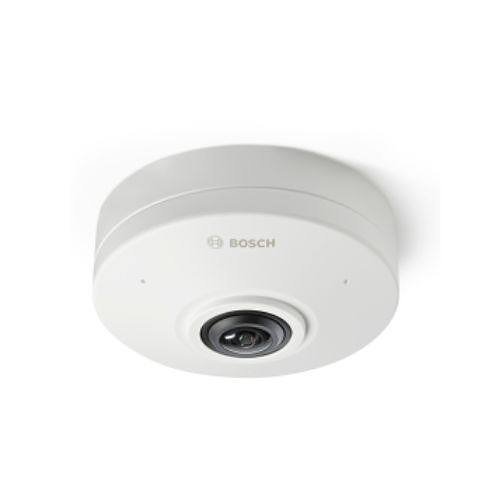 Productoverzicht
Algemeen Informatie
De FLEXIDOME panoramisch 5100i is een discrete, esthetische, panoramische camera voor bewaking binnenshuis zonder blinde vlekken. Met zijn stereografische panoramische lens biedt hij volledige 360° dekking en compleet gebiedsoverzicht met verbeterde details. De camera biedt volledige situationele bewustzijn en gelijktijdig ingezoomde afbeeldingen met hoge resolutie. Het high-end systeem op chip (SoC) biedt flexibele dewarping-mogelijkheden en betrouwbaar Intelligente videoanalyse en audio-AI.
Main Features
12MP Vaste Panoramische Camera
360° overzicht, geen blindspots
Lichtgevoeligheid kleur: 0.157lx, B/W: 0.056lx
360° panoramisch overzicht in 6MP en 12MP resolutie zonder blinde vlekken
Hoog dynamisch bereik om elk detail in beide te zien lichte en donkere delen van de scène
Edge of client-side dewarping voor gemakkelijk integratie en flexibel bekijken en opnemen
Ingebouwde Intelligent Video Analytics en Audio AI om relevante waarschuwingen te activeren en snel op te halen gegevens
Compact ontwerp voor onopvallend gebruik binnenshuis met snelle en eenvoudige installatie en set-up
Categorie : Panoramische Camera's, Video, IP Camera's, Producten
Specificaties
Technische Informatie
Effectieve cameraresolutie
Maximum Focal Length (mm)
Videoformaten
H.265/HEVC, MJPEG, PAL, Smart H.265+
Beeldscherm
Effective Camera Resolution (Pixel)
Minimum Illumination (lux)
Belichting
Camera
Connectiviteitstechnologie
Garantie
Interfaces/Poorten
Lens
Maximale brandpuntafstand
Netwerk & Communicatie
Omgeving
Maximale gebruikstemperatuur
Maximum Operating Temperature (°F)
Minimale gebruikstemperatuur
Minimum Operating Temperature (°F)
Opslag
Productinformatie
Montage
Muurbevestiging, Opbouw, Paal bevestiging, Plafondmontage, Plafondsteun, Plafondsteun DS-1299ZJ, Wandmontage