Bosch 5100i Flexidome Serie, 6MP IP panoramische camera met vaste lens, wit
Merken:
Bosch
Artikelnr #:NDS-5703-F360
Model #: F.01U.385.628
Naam: Bosch NDS-5703-F360 5100i Flexidome-Series 6MP 360° Panoramic Camera, 1.155mm Fixed Lens, White
High Dynamic Range to see every detail in both bright and dark areas of the scene
Edge or client-side dewarping for easy integration and flexible viewing and recording
Built-in Intelligent Video Analytics and Audio AI to trigger relevant alerts and quickly retrieve data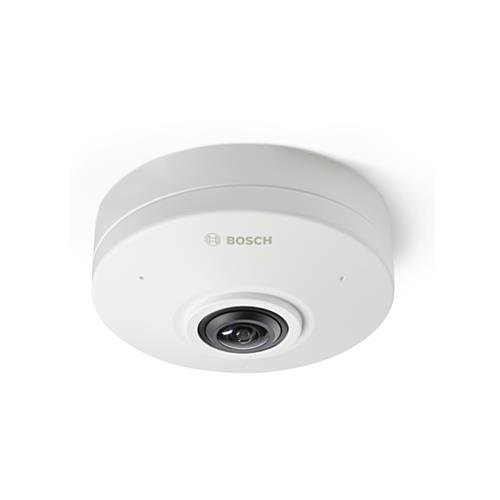 Productoverzicht
Algemeen Informatie
De FLEXIDOME IP panoramisch 6000 is een camera voor buitengebruik. De 12MP-sensor die werkt met 30 fps geeft een volledige panoramische bewaking met volledige gebiedsdekking, fijne details en hoge snelheden. De camera biedt volledig situationeel bewustzijn en gelijktijdige EPTZ-weergaven in hoge resolutie.
Main Features
Resolutie: 12 Megapixel
30 fps-sensor voor fijne details met vloeiende bewegingen
Edge of client-side dewarping voor eenvoudige integratie
Ingebouwde Essential Video Analytics om relevante waarschuwingen te activeren en snel gegevens op te halen
Panoramische IP-camera voor buiten
Compatibel met universele accessoires van Bosch
Categorie : IP Camera's, Producten, Panoramische Camera's, Video
Specificaties
Algemene Informatie
Productnaam
NDS-5703-F360 Fixed dome 6MP 360º FLEXIDOME Panoramic 5100i
Technische Informatie
Effectieve cameraresolutie
Maximum Focal Length (mm)
Videoformaten
H.265 (HEVC), Motion JPEG, PAL, Smart H.265+
Beeldscherm
Effective Camera Resolution (Pixel)
Belichting
Camera
Connectiviteitstechnologie
Interfaces/Poorten
Lens
Maximale brandpuntafstand
Netwerk & Communicatie
Omgeving
Maximale gebruikstemperatuur
Maximum Operating Temperature (°F)
Minimale gebruikstemperatuur
Minimum Operating Temperature (°F)
Opslag