AXIS P3719-PLE P37 serie, Zipstream IP66 15MP 3-6mm gemotoriseerde lens, IR 15M IP dome camera, wit
Merken:
AXIS Communications
Artikelnr #:01500-001
Model #: 01500-001
Naam: AXIS P3719-PLE P37 Series, Zipstream IP66 15MP 3-6mm Motorized Lens IR 15M IP Dome Camera, White
15 MP 360° multidirectional camera with one IP address
Flexible positioning of four varifocal camera heads
Axis Zipstream for reduced bandwidth and storage needs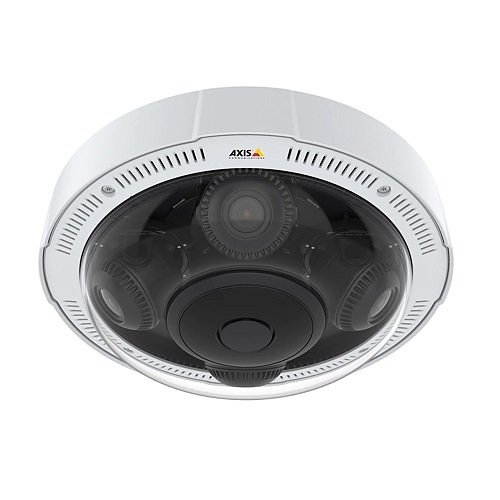 Productoverzicht
Algemeen Informatie
AXIS P3719-PLE-netwerkcamera is een compacte 15-megapixelcamera met vier varifocale lenzen (4 x Quad HD) waardoor overzicht en gedetailleerd toezicht. Met één IP-adres en één netwerkkabel biedt de vier camera's in één eenheid een flexibele, kosteneffectieve oplossing voor multidirectionele bewaking. 360 ° IR-verlichting en WDR biedt uitstekende videokwaliteit in alle lichtomstandigheden. Elke camerakop kan afzonderlijk worden geplaatst (pannen, kantelen, rollen en draaien) een cirkelvormig spoor. Zoomen en scherpstellen op afstand maakt het eenvoudig te installeren en de heldere dekking, zonder scherpe randen, zorgt voor onvervormde weergaven in alle richtingen. De camera heeft een geïntegreerd weerscherm.
Main Features
15 MP, 360 ° dekking met één IP-adres
360 ° IR-verlichting
Compact, flexibel en discreet
Remote zoom en focus
Zipstream
Categorie : Video, Panoramische Camera's, Producten, IP Camera's
Specificaties
Technische Informatie
Effectieve cameraresolutie
Gezichtsveld
Horizontal field of view: 101°-49° - Vertical field of view: 54°-29° - Diagonal field of view: 116°-58°
Maximum Focal Length (mm)
Minimale brandpuntafstand
Videoformaten
H.264 (MP), H.264 (MPEG-4 Part 10/AVC), H.264 HP, H.265 (MPEG-H Part 2), PAL, Smart H.265+
Beeldscherm
Effective Camera Resolution (Pixel)
Minimum Illumination (lux)
Belichting
Camera
Connectiviteitstechnologie
Night Vision Distance (mm)
Garantie
Interfaces/Poorten
Lens
Maximale brandpuntafstand
Netwerk & Communicatie
Omgeving
Maximale gebruikstemperatuur
Maximum Operating Temperature (°F)
Minimale gebruikstemperatuur
Minimum Operating Temperature (°F)
Opslag
Productinformatie
Montage
Bevestiging voor toestelverbindingsdoos, Bracket Mount, Inbouw Montage, Junction Box Montage, Muurbevestiging, Parapet Mount, Plafondmontage, Plafondsteun, Plafondsteun DS-1299ZJ, Voetmontagebeugel, Wandmontage
Projectielens
Minimum Focal Length (mm)
Uiterlijke kenmerken
Duurzaamheid
Impactbestendig, Schokbestendig, Zoutbestendig
Video
Overige
Inhoud verpakking
P3719-PLE Network Camera
RJ45 Mounting Tool
Screw Bit TR20
Installation Guide
Windows Decoder 1-user License
Kenmerken
Active Tampering Alarm, Built-in Infrared Illuminator, Built-in IR LED, HTTPS Encryption, Password Protection, Privacy Masking, Removable IR Cut-off Filter, Sabotagealarm, SD Card Local Storage, Wachtwoordbescherming, White Balance, Witbalans