AXIS P1375 P13 serie, WDR 2MP 2.8-8mm varifocale lens, barbone IP box camera, wit
Merken:
AXIS Communications
Artikelnr #:01532-031
Model #: 01532-031
Naam: AXIS P1375 P13 Series, 2MP Zipstream Surveillance IP Box Camera with Lightfinder and Forensic WDR, 2.8-8mm Lens
HDTV 1080p at up to 60 fps
Lightfinder 2.0
Signed firmware and secure boot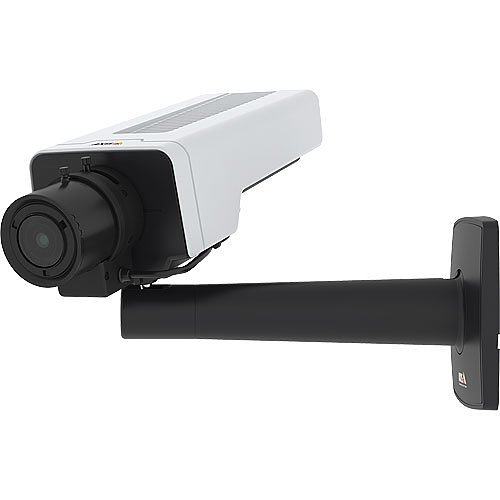 Productoverzicht
Algemeen Informatie
De AXIS P1375 netwerkcamera biedt uitstekende video, zelfs in trillende omstandigheden, en beschikt over scèneprofielen voor automatisch aangepaste instellingen voor specifieke scènes. Verbeterde beveiligingsfuncties zoals ondertekende firmware en veilig opstarten zorg voor de integriteit en authenticiteit van de firmware van de camera. Verder zijn functies zoals sabotage-alarm en videostreaming-indicator zorgt voor volledige controle over de video. Met Lightfinder en Forensic WDR biedt de camera details zelfs in uitdagende lichtomstandigheden en dankzij Zipstream worden opslag en bandbreedte aanzienlijk verminderd. De CS-vatting van de camera biedt flexibiliteit om te wisselen naar grotere of intelligentere lenzen, zoals i-CS-lenzen.
Main Features
Indoor 2MP 60fps, audio, I/O
Zonder lens
Lichtgevoeligheid kleur 0.05lx mono 0.01lx
WDR 120dB
HDTV 1080p met maximaal 60 fps
Elektronische beeldstabilisatie
Ondertekende firmware en veilig opstarten
Lightfinder 2.0 en Forensic WDR
Zipstream met H.264 en H.265
Categorie : Video, Bullet Camera's, Box Camera's, Producten, Opnameapparatuur, IP Camera's, NVR's
Specificaties
Technical Information
Gezichtsveld
Horizontal field of view: 124°-42° - Vertical field of view: 65°-24°
Maximum Focal Length (mm)
Minimale brandpuntafstand
Technische Informatie
Effectieve cameraresolutie
Videoformaten
H.264 (MP), H.264 (MPEG-4 Part 10/AVC), H.264 BP, H.264 HP, H.265 (MPEG-H Part 2/HEVC), Motion JPEG, PAL
Beeldscherm
Belichting
Camera
Connectiviteitstechnologie
Display & Graphics
Effective Camera Resolution (Pixel)
Energie
Interfaces/Poorten
Lens
Maximale brandpuntafstand
Netwerk & Communicatie
Omgeving
Maximale gebruikstemperatuur
Maximum Operating Temperature (°F)
Minimale gebruikstemperatuur
Minimum Operating Temperature (°F)
Opslag
Physical Characteristics
Productinformatie
Montage
Lighting Track Mount, Plafondmontage
Projectielens
Minimum Focal Length (mm)
Storage
Uiterlijke kenmerken