AXIS T94S01P Conduit Back Box met doorvoer voor buitengebruik, IP66-IP67
Merken:
AXIS Communications
Artikelnr #:01190-001
Model #: 01190-001
Naam: AXIS T94S01P Outdoor Conduit Back Box with Conduit Entrance, IP66/IP67
IP66/IP67 Storage compartment for connectivity devices
Impact resistant (IK10+) against vandalism attempts
3/4" / M25 conduit interface from both side and back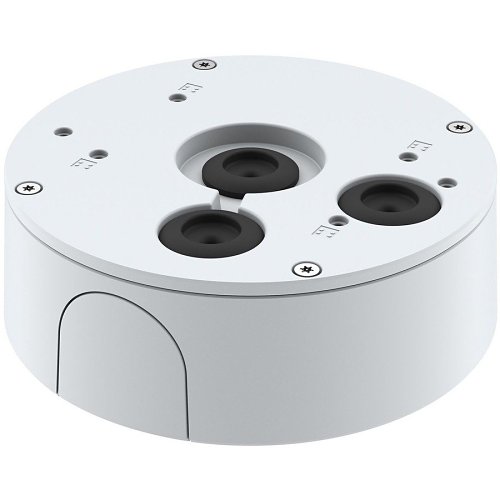 Productoverzicht
Algemeen Informatie
AXIS T94S01P Conduit Back Box is een outdoor-ready, slagvaste (IK10+) backbox ontworpen om achter een breed scala aan Axis netwerkcamera's. Het heeft een tegen binnendringend beschermd (IP66/IP67) compartiment voor veilige opslag van: connectiviteit apparaten. Voorbeelden hiervan zijn het opslaan van een IP-over-COAX-adapter om legacy-bekabeling of een netwerkkabel opnieuw te gebruiken koppelstuk om te overbruggen tussen starre en flexibele netwerkkabels. AXIS T94S01P maakt zowel camera als connectiviteitsapparaat mogelijk veilig op hetzelfde punt te monteren, zonder extra kastinstallatie (zelfs direct op aansluitdozen). De voltooide installatie is zowel esthetisch aantrekkelijk als bestand tegen uitdagende buitenomstandigheden.
Main Features
IP66/IP67 opbergvak voor connectiviteitsapparaten
Slagvast (IK10+) tegen vandalismepogingen
¾ " / M25-buisinterface van zowel zij- als achterkant
Compatibel met een breed scala aan Axis-netwerkcamera's
Categorie : Video, Junction Boxes, Producten, Behuizingen & Bevestigingen
Specificaties
Algemene Informatie
Technische Informatie
Productinformatie
Uiterlijke kenmerken
Miscellaneous
Overige