Eaton i-onG3MM-EU Scantronic, i-on serie, uitbreidbaar bedieningspaneel, 200 zones
Merken:
Eaton
Artikelnr #:I-ONG3MM-EU
Model #: I-ONG3MM-EU
Naam: Eaton i-onG3MM-EU Scantronic, i-on Series, Expandable Control Panel, 200-Zone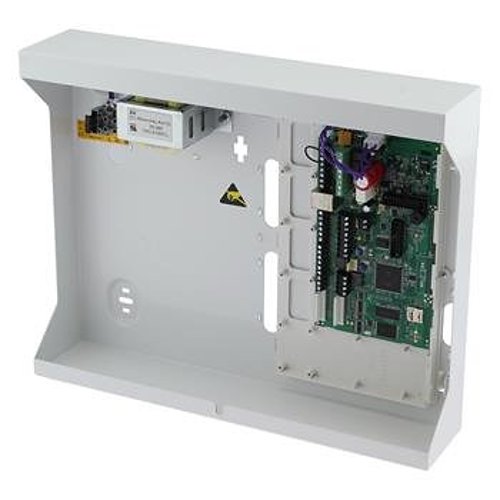 Productoverzicht
Algemeen Informatie
Built with cyber security in its DNA the i-onG3MM is SecureConnect™ Cloud and App enabled

Decimal expansion system
Expanders have 10 zones in addition to the 10 zones on the end station. It provides 25% more zones per expander than traditional 8 zone expanders. A 30 zone radio expander is also available.

Performance bus
2 buses with flexibus to provide maximum installation flexibility. Connect expanders and keypads to any bus and address them as though there was only a single bus. Maximum of 50 bus devices.

Semi-auto addressing
Prevents address duplication for bus mounted devices, saving hours of installation diagnostic time.

Audible bus device tracing
Locate any bus device quickly and easily. Reduce the time taken to complete maintenance and service calls.
Main Features
i-On Grade-3 hybride centrale in medium metalen kast
Standaard 10 zones on-board, hybride uit te breiden tot max. 20 0 zones
Max. 200 gebruikers en 20 partities (elk 3 deelschakelingen)
2x Buslijn (Flexibus) voor bekabelde/dr aadloze keypads en uitbreidingsmodules (max. 50 modules)
Onboard Ethernet voor doormelding over IP, optioneel Plug-On PS TN/GSM/4G module
Geschikt voor selfmonitoring (app)/ webserver/ virtual keypad
Mogelijkheid voor Firmware up grade via Cloud of SD-card
Communicatie beveiliging: SSL/TLS - bij communicatie met SecureConnect App of Cloud
Noodstroomaccu 1x 17Ah
Afmetingen: 320x402x102mm
Categorie : Inbraakpanelen en Toebehoren, Producten, Inbraakcentrales en Kits, Inbraak
Specificaties
Algemene Informatie
Productnaam
Expandable 200 Zone Control Panel
Producttype
Universal Alarm Control Panel
Technische Informatie
Certificaatnummer
EN50131 PD6662:2017 Grade 2 or 3
Logboek aantal gebeurtenissen
Mazimaal aantal ondersteunde zones
Netwerk & Communicatie
Uiterlijke kenmerken
Overige
Certificaten & Standaarden
EN50131 PD6662:2017 Grade 2 or 3