Paxton10 337-510 Ingang VR Paneel, opbouw, regenkap en vandaalbestendig toegangssysteem, voor standalone, Net2 of Paxton10
Merken:
Paxton Access
Artikelnr #:337-510-NL
Model #: 337-510-NL
Naam: Paxton 337-510 Entry VR Panel, Surface Mount, Rain Hood & Vandal Resistant Door Entry System, for Standalone, Net2 or Paxton10
IK10 rated VR panel for ultimate impact resistance
Pan/tilt camera functionality to capture an angled view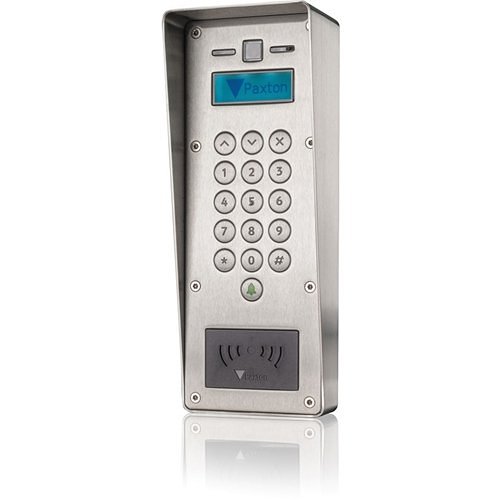 Productoverzicht
Algemeen Informatie
Entry is een deurintercom systeem dat zowel standalone of in combinatie met het Paxton10 en Net2 toegangscontrole systeem kan functioneren.
Het robuuste vandaalbestendig Entry paneel is gemaakt van 316 marine grade RVS en heeft een slagvast polycarbonaat scherm. Hierdoor heeft het Entry paneel een slagvastheid van IK10. Deze versie is perfect voor hoog risico locaties en vandalisme gevoelige gebieden.
Alle Entry panelen zijn IPX5-gecertificeerd, waardoor deze panelen onder alle weersomstandigheden buiten te gebruiken zijn. Alle Entry panelen zijn voorzien van ingebouwde Bluetooth® technologie voor gebruik met de Paxton10 Bluetooth® Tag en smart credentials in combinatie met Paxton10.
De Entry panelen ondersteunen drie typen Bluetooth werkingsmodes; aanbieden, tap to enter en handsfree.
Main Features
3mm 316 marine grade RVS vandaalbestendig paneel
Integratie van een externe IP overzichtscamera mogelijk
Auto detect functie voor eenvoudige installatie
Slagvastheid beschermingsgraad IK10
Panelen zijn standaard SIP compatibel
Ingebouwde Bluetooth® technologie voor gebruik met smart credentials in combinatie met Paxton10
SIP compatible
Categorie : Producten, Intercom Deurstations, Intercom, Intercoms & Telefoontoegang
Specificaties
Algemene Informatie
Technische Informatie
Beeldscherm
Energie
Productinformatie
Uiterlijke kenmerken
Overige
Certificaten & Standaarden