Bosch 3000i Flexidome Serie, IP66 5MP 2.3mm vaste lens IR 15M IP turret camera, wit
Merken:
Bosch
Artikelnr #:NTE-3503-F02L
Model #: F.01U.409.999
Naam: Bosch NTE-3503-F02L 3000i FlexiDome Series 5MP 120° Outdoor IR Turret Camera, 2.3mm or 2.8mm Fixed Lens, White
Built-in Essential Video Analytics to trigger relevant alerts and quickly retrieve data
Fully configurable H.265 multi-streaming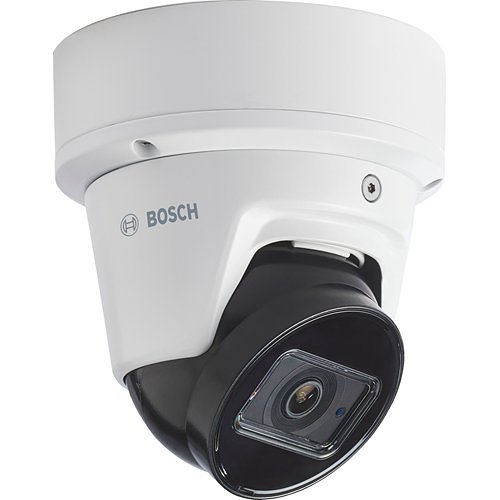 Productoverzicht
Algemeen Informatie
The FLEXIDOME IP turret 3000i IR is a surveillance camera that offers high-quality performance and reliable surveillance features for 24/7 monitoring. It is designed with a compact and minimalist design, making installation easy. One of the key features of this camera is Essential Video Analytics, which reinforces the concept of Intelligence at the Edge. It provides advanced video analysis capabilities, particularly suitable for controlled environments with limited detection ranges. The camera can reliably detect, track, and analyze objects, triggering alarms when predefined conditions are met. It employs a smart set of alarm rules to simplify complex tasks and minimize false alarms. Metadata is attached to the video, enabling quick retrieval of relevant images from hours of stored footage. This metadata can also be utilized for delivering irrefutable forensic evidence or optimizing business processes such as people counting or crowd density analysis. The camera incorporates a high dynamic range mode, utilizing a multiple-exposure process to capture more details in both highlights and shadows within the same scene. This allows for improved object and feature recognition, even in challenging lighting conditions, such as faces with bright backlight. The dynamic range of the camera is measured using Opto-Electronic Conversion Function (OECF) analysis according to IEC 62676 Part 5.
Main Features
FLEXIDOME IP TURRET 3000I
IP Eyeball / Turret camera
Voor buitengebruik en vandaalbestendig
Resolutie 5MP
Lens: 2.3mm
IR 15m
Voeding: 12V, PoE
IP66, IK10
Essential Video Analytics, Hoog dynamisch bereik (High Dynamic Range, HDR)
Categorie : Turret Camera's, Producten, Video, IP Camera's
Specificaties
Algemene Informatie
Productnaam
NTE-3503-F02L Turretcamera 5MP HDR 120° IP66 IK10 IR
Technische Informatie
Effectieve cameraresolutie
Beeldscherm
Effective Camera Resolution (Pixel)
Minimum Illumination (lux)
Belichting
Camera
Connectiviteitstechnologie
Maximum Illumination (lux)
Night Vision Distance (mm)
Energie
Interfaces/Poorten
Lens
Netwerk & Communicatie
Omgeving
Maximale gebruikstemperatuur
Maximum Operating Temperature (°F)
Minimale gebruikstemperatuur
Minimum Operating Temperature (°F)
Opslag
Productinformatie
Uiterlijke kenmerken
Duurzaamheid
Impactbestendig, Stofbestendig, Waterbestendig
Video